Both Apple & Microsoft made the year 2012, the year of operating systems by launching OS X Mountain Lion and Windows 8 respectively. Below is the quick look of both the OSs.
Windows 8
OS X Mountain Lion
OS X Mountain Lion 10.8 is widely accepted & the most popular OS till date. The features of OS X ML are enormously helpful to gain superb working environment.
Talking of a makeover, then no OS in the history is as beautifully manipulated as the Windows 8. The colorful square boxes on the main screen of the Windows 8 are called 'TILES', which gives user an environment of awesomeness.
Installing Windows 8 on a Mac OS X -
Requirements
:
MacbookAir, Macbookpro, iMac, Mac Mini
Windows 8 DVD/ISO copy, bootable USB will also do
10GB of hard drive free space.
Note that, the hard drive should be a single partition drive. With more than 1 partition you won't be able to get Windows on it through boot camp. Virtually, it is still possible with the help of the PARALLELS.
Boot Camp
is the dual boot OS facility enabling a user to install both an OS X and Windows OS copy on the same machine.
Boot Camp
was rolled out with 10.5 Leopard OS and now permanently included under the option -
Finder<Application<Utilities<Boot Camp Assistant
Follow the sequential steps to get Windows 8 installed on Mac:
Connect/Insert USB or DVD to your Mac machine & launch the Boot Camp utility. The boot camp assistant gives you option to download Windows, Install Windows & Install supported software for you Windows. For a better OS experience you can choose to get all necessary drivers and required software.
PCWorld.com

Once the above activity is done, it is time now to define a dedicated partition for Windows 8 Installation. It is recommended to allow attest 20 GB (64-bit) of partition for Window 8 OS.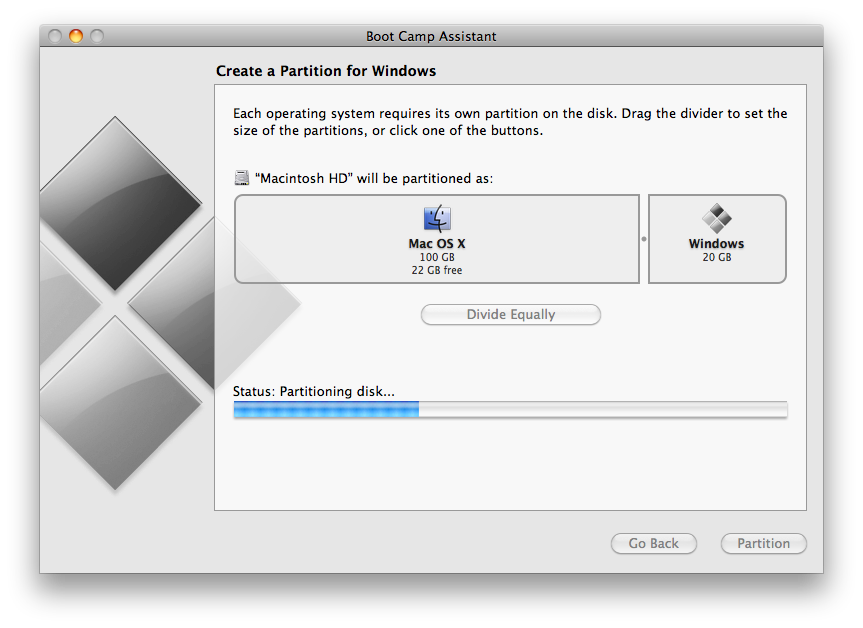 Hit the 'Partition' button to actualize your settings.
The OS X will restart & would initiate the installation of windows 8 by giving you the option to select the bootcamp partition from the list of other partitions. In this particular menu, there are advance options like 'Drive Options', which would come to help if the process reports the error - "Windows cannot be installed to this hard disk space. Windows must be installed to a partition formatted as NTFS."
All set up, Windows installation will take its own time and after that you can install the support software for the Windows 8.
When you get started on Mac, press-hold the
OPTION
key to make appear the OS selection menu. From there, select either of the Installed OS to boot from.
[Also Read:
Windows 8 Keeps Freezing at Boot Screen, Here's How to fix it?
]